What is a project and how to manage projects in your corporate account
A project comprises of fiat and cryptocurrency accounts, transaction history and API settings. If your company operates on several websites under the same legal entity, it may be prudent for you to create separate projects within your corporate account so that you can keep track of all the different transactions and balances separately.
The project under your company's name is automatically created in our system when your Cryptopay corporate account verification is completed: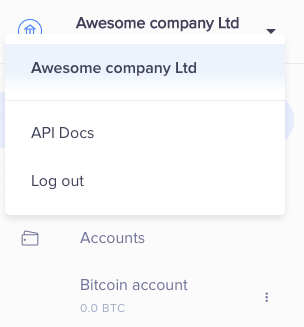 Per your request, Cryptopay corporate accounts manager may enable an option to add projects to our system. Once it is turned on in your account, it looks like this:
After clicking "Add a project", you'll get the following window:
Fill in these fields with corresponding information (your project's name, website and description) and click "Add a project":
This project is now available in your account:
When a new project is activated, you can switch between the projects in your account and change their settings (Settings → Project settings):
You can manage your projects separately and choose different settings for each of them.
If you are no longer willing to use your project, you can contact our support team to get it removed from your corporate account.
If you have any questions, feel free to reach your account manager or send a message to our friendly support team at support@cryptopay.me.