Get verified with Cryptopay Android app
Now you can upload your documents directly from your phone within a few minutes. The verification process couldn't be easier!
---
Before starting the process, please, check the current list of supported countries here to make sure you're eligible for verification.
We can talk about verification benefits a lot, here are just a few examples:
1. Use bank deposits to top-up your Cryptopay account
2. Use debit/credit card deposits to top-up your Cryptopay account
There are more advantages to being verified, you can see for yourself :)
Let's do it!
Go to the Other tab and click the ⚙️ (Settings) icon in the upper-right corner. Tap on the Verification status and you will three easy steps to making your life with Cryptopay better :)



A little digression: let's look closer to the documents needed for verification 🤓
Please choose the country you're from and the type of the document you are going to upload (passport, ID, driving license). Please note that you can easily use the camera on your mobile phone to take a photo of your document.
Make sure your chosen document is valid through next six months after the request has been made and has your photo on it. We can't accept ID documents with no photo.
Take a photo of the document using an HQ camera or scan it.
Make sure your photo or scanned image is not less than 100 kb in size and also does not have less than 300 DPI resolution. You can check this info by clicking the image file properties.
Please do not open an image with any graphics editors, because it may be considered a fraudulent act. Images need to be provided with no alterations, cropping or resizing.
Please take a selfie with the same document that you have uploaded as your proof of identity. Click on "Attach the file" and choose "Take Photo". Take the document in your hand, make sure that all edges of the document are clearly visible and the photo is light and clear.
Please do not open an image with any graphics editors, crop or resize them.

To prove your address, you can use the following types of documents:
Utility bills
Bank statements
Credit card statements
Tax invoices
Other government issued residential statements/certificates
NB: We do not accept these types of documents as a proof of address: mobile phone bills, Insurance documents, medical prescriptions, recipes, invoices and other documents, prepaid card invoices.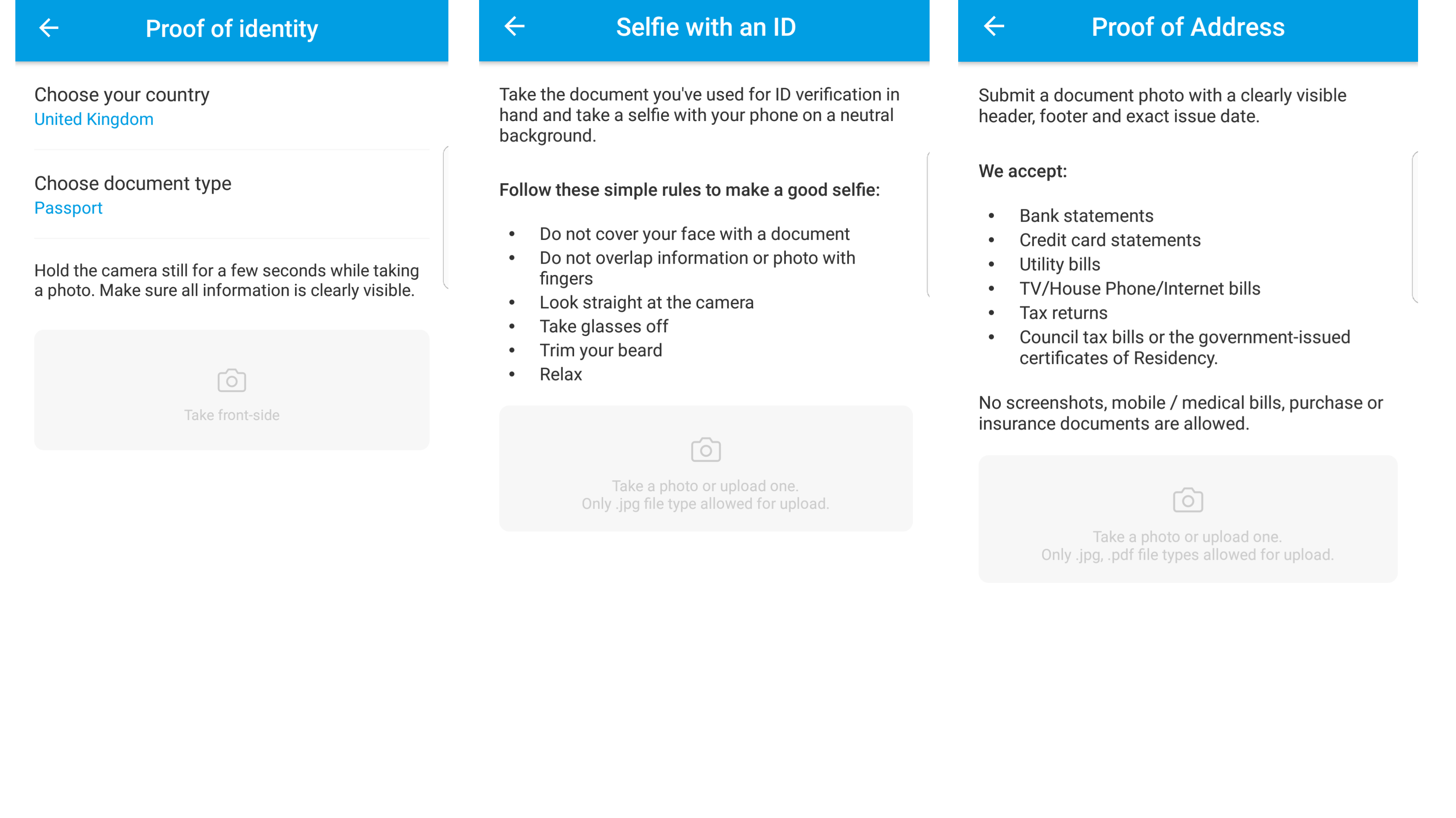 Please make sure that your document contains your name, full home address and it is issued not earlier than 3 months ago to the date of application. We accept both paper documents (photos or scanned images) and digital documents in PDF.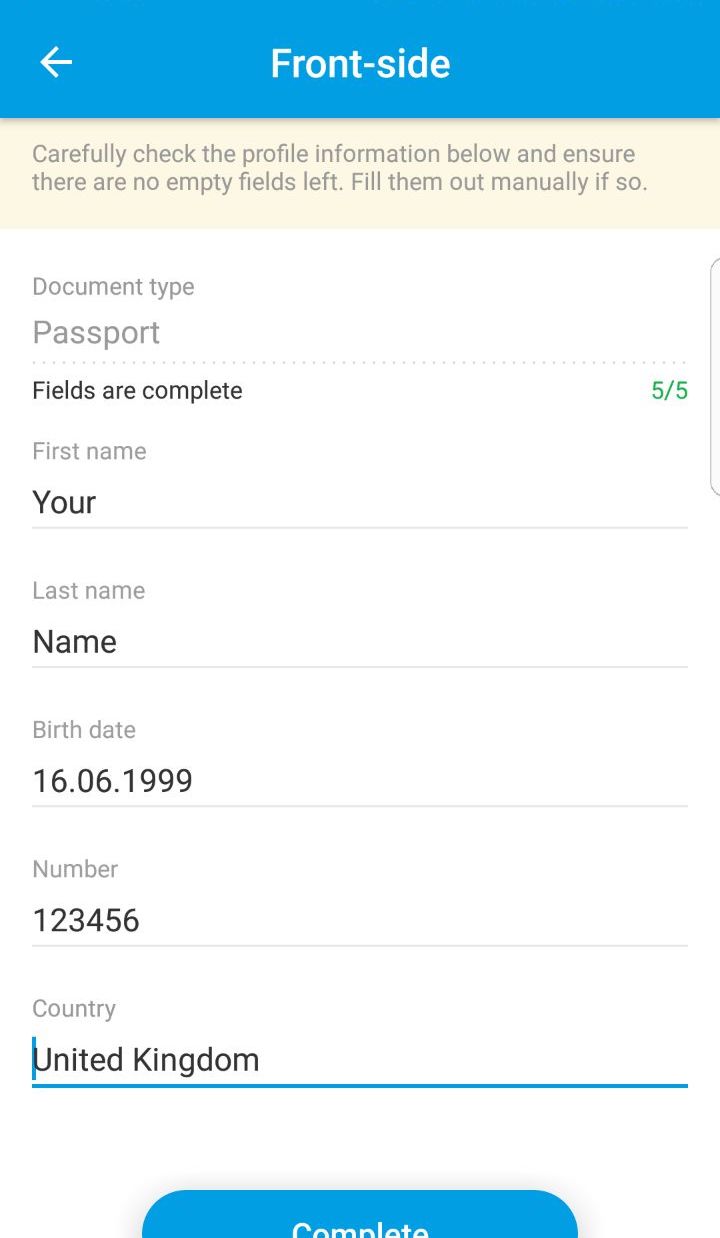 Please make sure your document is fully visible in the photo or a scanned image.
For uploading your proof of address you can also take a photo of the document if you have it in the paper form. But if you have the document in PDF, you can import this file from cloud services.
4. After you have uploaded your documents there is only one step left - waiting for the answer. Good news is our Compliance team is so fast that your documents will be reviewed before you know it! ⚡️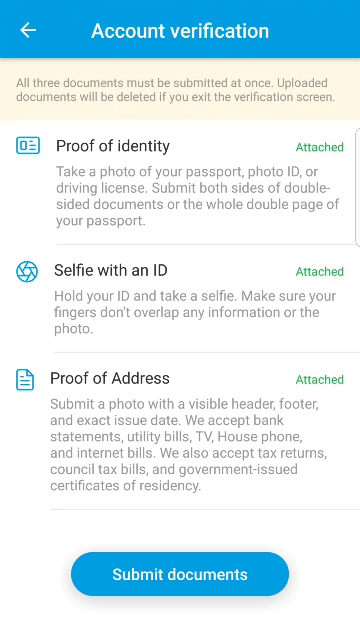 5. You will get an email from our Compliance team:
Congratulations and welcome on board! 🤗
In some cases you might need to do some extra steps to get verified. In that case you'll get a detailed reply explaining the reason your verification was declined:
Just follow the instructions in the email and upload the documents required using the same upload form in the app.
All things consider you can always ask our amazing Support team via live chat or email support@cryptopay.me if you any questions arise! They are happy to help! ✨