How to send Ripple (XRP) to an external wallet
Cryptopay makes sending XRP easy!
---
The first thing you need to know when sending funds to an external Ripple wallet is the XRP address of the receiver and a destination tag, if there is one.
Destination tag is a figure (with a maximum of 10 digits), unique to each wallet. A destination tag works just like a reference number with bank transactions.
A destination tag identifies the transaction when multiple transactions from different senders are sent to the same receiving address used by multiple users. With exchanges and hosted wallets, the destination tag identifies the user within the receiving exchange or wallet.
It's important to know, that some services provide unique Ripple addresses for each user and don't require the destination tag.
Once you know the address and a destination tag, please follow these steps:
Go to the Send money tab
Choose the account you want to send funds from.


Note: If you are sending from non-XRP account to an XRP address, the funds will be automatically converted to XRP using the current Cryptopay exchange rate. You will also face a 1% conversion fee in this case.
After having chosen the account, make sure to choose Ripple as a type of recipient address, insert the XRP address and a destination tag.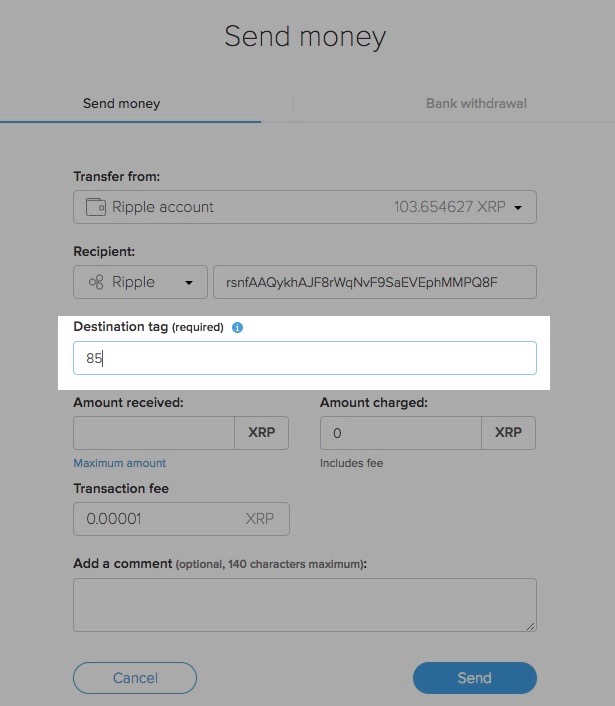 Important: XRP transactions without a destination tag will not be executed.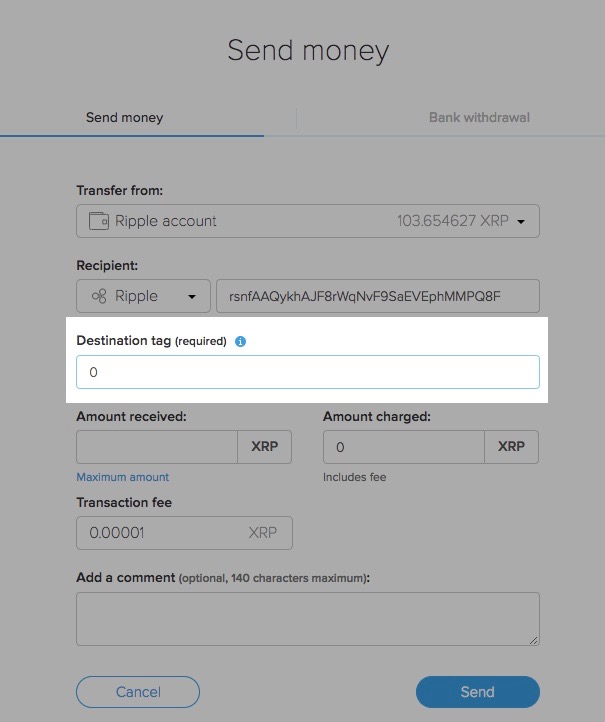 If you're sure that there's no destination tag required, you can put "0" in the destination tag field.

Important: If you put "0" as a Destination tag for a wallet used by multiple users, your funds will be lost PERMANENTLY.
You can also send funds from your Ripple account to any external Bitcoin or Litecoin address. To do so, please follow these steps:
Go to the Send money tab
Choose the XRP account
Specify the receiver: Bitcoin or Litecoin
Insert the BTC or LTC address, a sum, and a comment (optional)